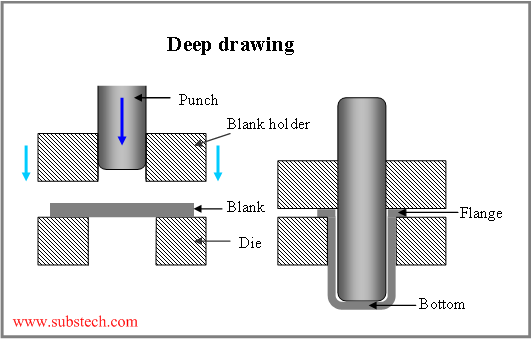 Beside lubrication, the drawing speed is another vital factor which greatly affects the the rate of the success in the deep drawing process.
Generally speaking, plain push through draw dies have the ability to be operated at higher linear velocities ( faster drawing speeds) than drawing dies equipped with drawn ring or pressure pads.
However, the metal being drawn must have enough time to flow during the drawing process. Excessive linear velocities or too fast the speed can cause the stock material to fracture.
Different materials will always differ in terms of flow rates. For plain push through dies, some recommended maximum linear velocities are as follows. The materials to be drawn are assumed to be a drawing grade and drawn with proper lubricants.
Aluminum = 150FPM  or 0.762 M/s
Brass =200  FPM  or  1.016 M/s
Copper = 150  FPM or 0.762 M/s
Steel = 55 FPM  or  0.7874 m/s
Stainless steel = 40 FPM  or 0.2032 m/s
Carbide die will normally permit faster drawing speed.
Shallower draws may be made at higher speeds than deeper draws. As with all draw dies, the quality of finish on the die surfaces is vitally important. Better finishes permit faster drawing speeds. Heavier stock material requires slower drawing speed.